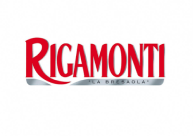 The successful entrepreneurial and family history of Rigamonti began more than a century ago and has crossed many generations. An adventure which began in the early twentieth century in the historic centre of Sondrio: it was 1913 when Francesco Rigamonti decided to open a workshop with annexed butcher's-cured meats shop in which, following the secrets of ancient recipes handed down locally, he began to prepare the bresaola, air-dried salted beef, a product which then, like today, is a symbol of Valtellina.
It was a time in which the first cars started to travel and a growing number of tourists came to the heart of the Alps for the first time to ski or climb the austere peaks of the Bernina and Ortles Cevedale. Here they could enjoy the healthy, pure air of the "Magnificent Land", as the zone around Bormio was called.
In the tourist itineraries a stop-off at Sondrio to make purchases was a must. Soon, thanks to "word of mouth", the Rigamonti cured meats factory in the city centre became known for the kindness and cordiality with which Francesco welcomed outsiders offering them rich plates of bresaola to try. The passion, dedication and care with which this delicious product was prepared ensured that in a few years Rigamonti bresaola became famous even outside Valtellina.
The true turning point came in 1928 when in the height of the post-war period the cured meats factory took part in the Milan Trade Fair in Milan. The event, which had considerable success, was the first great step towards the large-scale sale of bresaola which finally achieved the international visibility it deserved.
The commitment, efforts and constant dedication of its founder were awarded and the customers grew to the point that in the late 1950s, Giovanni and Emilio Rigamonti who had taken over management of the activity, opened the first production facility which is now the company's registered office, in Montagna in Valtellina. Subsequently, as orders and turnover increased two other production facilities were opened in Poggiridenti in the 1970s and Mazzo in Valtellina in 1986. Today, Rigamonti is the unrivalled leader of Bresaola production, with a turnover of more than 100 million euro and exports its products to 23 countries worldwide. Since 2010 it has been part of the JBS SA group, a Brazilian company with registered office in Sao Paolo. Established in 1953, it is the world's largest meat producer, present in more than 20 countries around the world with exports to over 150 markets. With more than 200,000 employees, JBS avails of 340 production units and serves more than 300,000 customers worldwide, making it the global leader in the sector.